Sports Teams
Our Sports Teams
There are numerous opportunities for our children to take part in sporting events. All children take part in inter class competitions and Sports day. Some children are chosen to represent our school at cluster and county level competitions. There are both team and individual competitions. We are looking forward to a successful year of sport and will keep you informed of the results via the website and newsletters.
Football Reports
Year 5/6 Girls Football - Tournament Report
On the 1st of October, the girls football team competed in their first tournament of the year at The Discovery Academy. The girls came across some tough competition but showed great determination and skill to complete the tournament without conceding a goal.
The team played 6 games, with four hard-fought victories and 2 draws, culminating in the girls achieving a joint first place position a just reward for their efforts on the day.
Shannon L was the girls top scorer with 4 goals supported well by 1 goal each for Shannon B and Tatenda. The teams defence, which was rotated, protected The Meadows goal and made the teams results possible. Well done to all girls. A lot of fun was had and they have made the whole school proud of their achievements.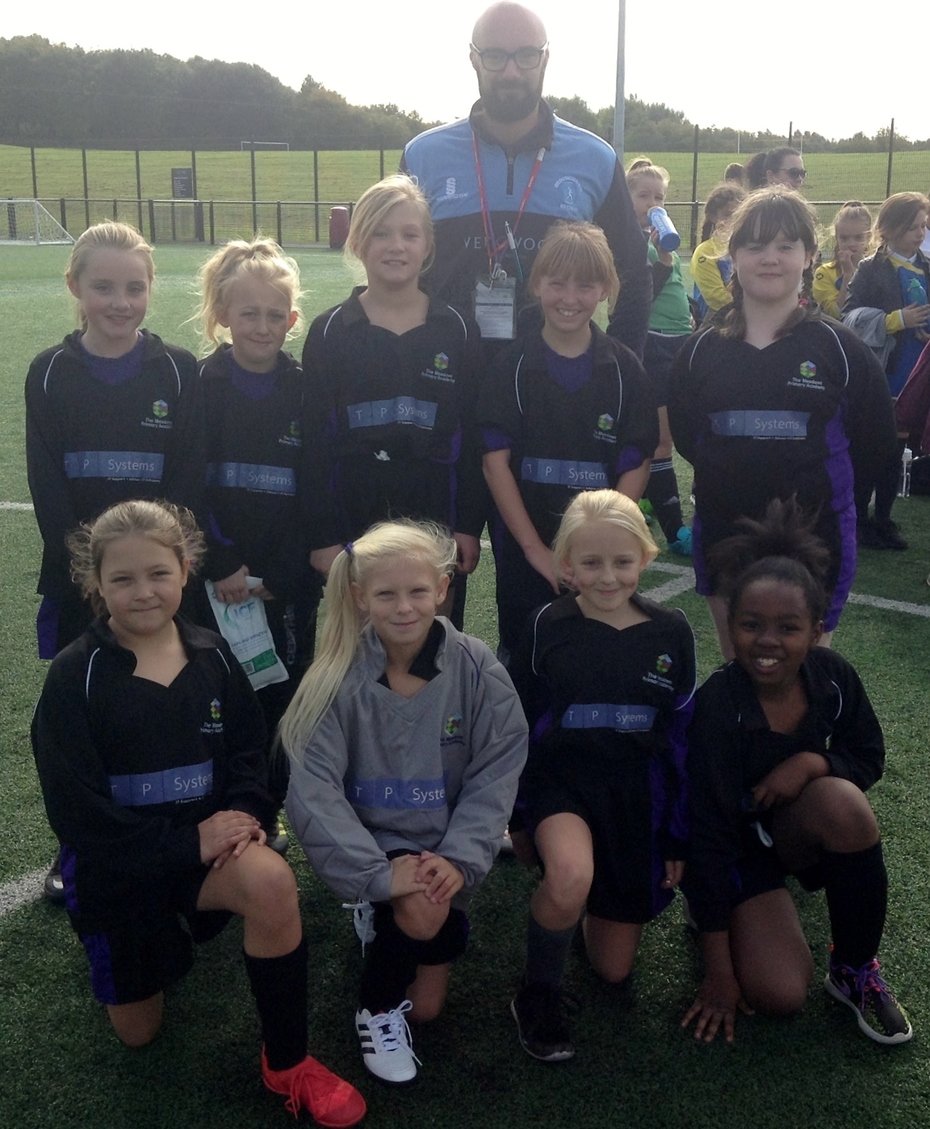 Back Row : Shannon B, Abigail, Leanne, Shannon L, Emily
Front Row : Courtney, Ellie-Mae, Lillie, Tatenda
Year 5/6 Mixed Football - Match Report
Thursday the 18th of October was the mixed football teams first fixture of the season and was a complete success.
The team traveled to Belgrave Academy and played 2 games winning 1-0 in the first and 3-0 in the second.
The performance was that of a TEAM and that team spirit helped them to win comfortably in the end.
The boy's and girl worked tirelessly for each other and should feel very proud of themselves.
A fantastic result for the team!
Well done!
Year 5/6 Mixed Football - Match Report
On Wednesday 7th November the mixed football team competed in the first round of the Staffordshire Schools FA cup competition versus Werrington.
The game kicked off and the Meadows found themselves a goal down within 30 seconds as they were still tired from the mammoth journey to Werrington's school. The team shortly awoke from their slumber and began to attack the Werrington goal constantly, the pressure told as we scored a goal shortly before half time to make the scores even.
In the second half the team left off as they ended the first half with some fantastic attacking play and stern defending resulting in the Meadows scoring 2 more goals and winning the game 3-1.
Communication, commitment and teamwork were key to the success! Well done boys and girls!